Australasian Oaks Betting Tips
We will have final-field tips for the Australasian Oaks when it is released a week in advance of the scheduled race date.
Bookmakers offer comprehensive 2019 Australasian Oaks markets with all the major runners covered.
Australasian Oaks Odds
The bookies do not currently have any odds available for the 2019 Australasian Oaks, but as soon as markets open for the females-only race check back here for updated odds on the event.
Australasian Oaks Bookmaker Offers
There's not always a guarantee that there'll be bookmaker offers ahead of the Australasian Oaks but any bookmaker that takes their craft seriously will at least frame some specality markets for the event.
The following bookies are your best bet for Australasian Oaks bookmaker offers.
Australasian Oaks History
while the Australasian Oaks isn't the oldest race in South Australian history, it is certainly one that is now targeted by trainers and owners alike.
First run and won by Rose Of Kingston back in 1982, the Oaks has seen a number of high profile winners take out the Morphettville Group 1 event including Egg Tart and the rising star Princess Jenni.
Worth $500,000, the Oaks will be a race that the fillies put in their notebooks for many years to come.
Australasian Oaks Field
The Australasian Oaks field is usually set in stone at least a week in advance of the race date.
Given the 2019 edition has already been run and won there will be a long wait for the next field to materalise, but check back in 2020 for an updated Australasian Oaks field.
Australasian Oaks Form Guide
The Australasian Oaks is three-year-old fillies event which means your best form guide bet is to follow the up and coming two-year-olds from the year prior.
It is prudent to follow the local hopes given the half a million dollars isn't always enough to get the big Sydney and Melbourne stables to bring their fillies across, but in recent years it has been a favourites race so keep on an eye on how the market frames the runners.
Australasian Oaks Previous Winners
| Year | Winner |
| --- | --- |
| 2019 | Princess Jenni |
| 2018 | Sopressa |
| 2017 | Egg Tart |
| 2016 | Abbey Marie |
| 2015 | Delicacy |
| 2014 | May's Dream |
| 2013 | Maybe Discreet |
| 2012 | Invest |
| 2011 | Lights Of Heavon |
| 2010 | Small Minds |
| 2009 | Gallica |
| 2008 | Zarita |
| 2007 | Anamato |
| 2006 | Marju Snip |
| 2005 | Irish Darling |
| 2004 | Rinky Dink |
| 2003 | Sound Action |
| 2002 | Tully Thunder |
| 2001 | Temptest Morn |
| 2000 | Grand Echezeaux |
Australasian Oaks Live Streaming
Like the Victorian racing, most bookmakers offer live streaming on South Australian events.
This means punters wanting to live stream the Australasian Oaks can do so through online bookmakers like
Bet365
. All you need to do is sign up and have some cash in your account.
Australasian Oaks Race Schedule
Below are the dates times and schedule ahead of the 2020 Australasian Oaks.
| | |
| --- | --- |
| Date | Saturday, May 2, 2020 |
| Time | 3.55pm |
| Track | Morphettville |
| Distance | 2000m |
| Prize Money | $500,000 |
| Age | 3YO Fillies |
The other races on the card are as follows:
Race 1: Queen Adelaide Stakes
Race 2: Triple M Handicap
Race 3: DC MacKay Stakes
Race 4: Benchmark 90
Race 5: Queen Of The South Stakes
Race 6: Australasian Oaks
Race 7: Robert Sangster Stakes
Race 8: Euclase Stakes
Australasian Oaks 2019 Result
1st - Princess Jenni
2nd - Mirette
3rd - House Of Cartier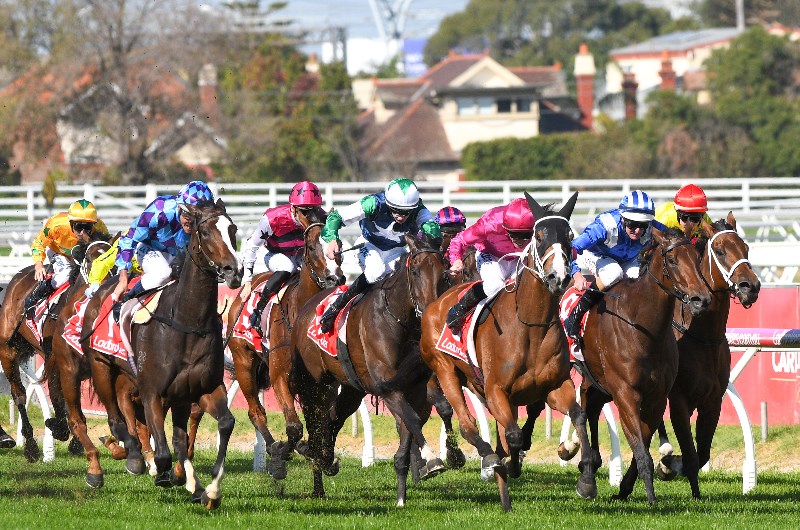 Australasian Oaks FAQ
..When is the 2020 Australasian Oaks?
The 2019 Australasian Oaks runs on Saturday April 2, 2020.

How long is the Australasian Oaks?
The sprinting contest is run over 2000m.
Where is the Australasian Oaks held?
The Winx Stakes is held at Morphettville, which is located in Adelaide, Australia.
What time does the Australasian Oaks run?
The Australasian Oaks is held at 3:55pm.
Who won the 2019 Australasian Oaks?
Princess Jenni won the 2019 Australasian Oaks.
What's the prize money for the 2019 Australasian Oaks?
$500,000 is the total prize pool for the 2020 Australasian Oaks.