Begood Toya Mother on path for Sir Rupert Clarke Stakes
Begood Toya Mother, as well as having a great name, is a live hope of winning the Group 1 Sir Rupert Clarke Stakes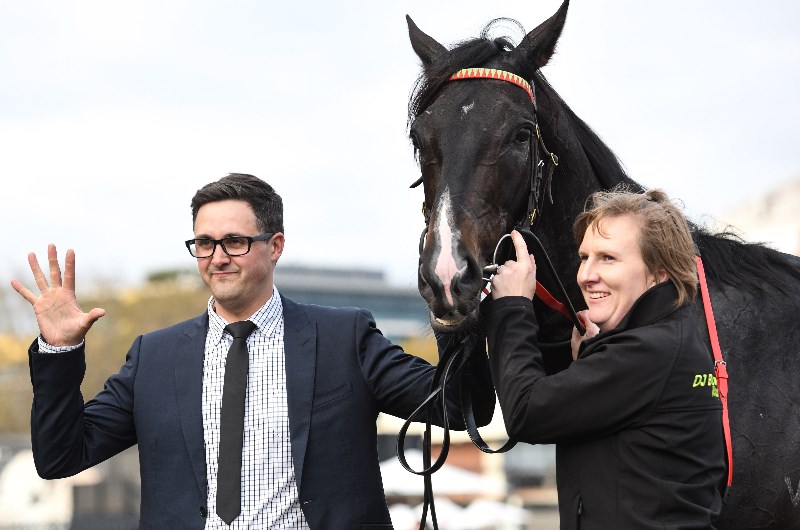 Trainer Daniel Bowman poses with Begood Toya Mother after winning at Caulfield
Rising star ready for Group 1 tilt
Trainer Daniel Bowman has pinpointed the Regal Roller Stakes as Begood Toya Mother's introduction to stakes racing with a view to a tilt at the Group 1
Sir Rupert Clarke Stakes
.
Begood Toya Mother has made headlines after rising through the grades this season. He was super impressive when winning by five lengths at Caulfield on June 1 and that effort attracted the attention of many.
Bowman gave the gelding a few weeks off after Caulfield and is setting him for a campaign aimed at the Sir Rupert Clarke over the Caulfield 1400m on September 21.
The four-year-old's work is about to start ramping up as he builds towards a return in the Listed Regal Roller Stakes at Caulfield in August.
"He just had three weeks off and he's been back in a couple of weeks now," Bowman said.
"He'll start to gallop this week and he'll have a couple of jump-outs before he kicks off in the Regal Roller on the 17th (of August)."
Begood Toya Mother is scheduled to have a jump-out at Ballarat on July 23 with his second jump-out likely to be either at Horsham or Cranbourne in early August.
"I think he has put the writing on the wall that he could measure up to stakes level," Bowman said.
"Whether that's Group One level, we'll find out. There's only one way to find out.
"We'll have a crack at the Rupert Clarke and if he's good enough that would be great. And if he's not, we can always come back a peg or two."