Grand Annual Steeplechase Tips & Preview
The Grand Annual Steeplechase takes place at Warrnambool on May 6
The jumps feature is on the third day of the Warrnambool Carnival
Who will win the Grand Annual?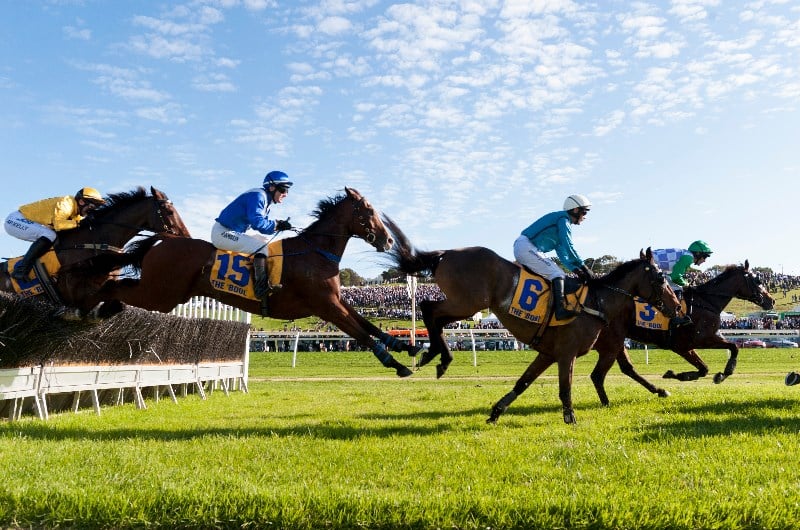 Grand Annual Steeple Chase during the Warrnambool Racing Carnival (Getty Images)
The Grand Annual Steeplechase headlines the third day of Warrnambool Carnival on Thursday.

Warrnambool Stream:
Watch every race from Warrnambool at
Sportsbet
A total of 33 fences and 5500 metres make this the ultimate test of horse and rider. Who will take out the 2021 edition?

1. Zed Em T: Patrick Payne, J: Aaron Kuru
Lines up for his fourth crack at this race, having placed first (2019), second (2018) and third (2020). You can make an argument that he isn't quite the force he was. Spying On You beat him comfortably in the Great Eastern at Oakbank, a race nothing had been able to get within drop punt distance of him in years past. Given that and the 71Kg, he looks well enough found at the $4.00. If he got to $6.00 or better he would be worth a ticket.
2. Bit Of A Lad T: C Maher & D Eustace, J: Shane Jackson
At time of writing it was said to be "very likely" he backs up from Tuesday, with last year's Annual winning jockey, Shane Jackson, coming out of retirement to take the mount. He ran really well in the Brierly, but my concern is that he has had two goes at this race before and to my eye, he just doesn't see out the trip. With 69Kg he isn't particularly well weighted here either. Happy to oppose at his current price.
3. Gold Medals T: Symon Wilde, J: Clayton Douglas
Lining up for his fourth crack at the race having placed first (2018) and second twice (2019 and 2020). His record in the race is outstanding, but he is 11 years of age now. You'd be foolish to rule him out and I think he is at about his right price. With 68.5Kg he is very well weighted considering his credentials around this track.
4. Spying On You T: Grant Young, J: Tom Ryan
Lining up for his fifth crack at this race having finished third twice (2018 and 2019), fifth (2016) and sixth (2017). Finishing in the top three or four would appear to be his ceiling given he is well exposed here, and probably runs that bit better on firm ground. One for exotics.
5. Yensir T: C Maher & D Eustace, J: Steven Pateman
Ex-UK jumper who won his only start over obstacles in Australia, the Von Doussa Steeplechase at Oakbank, in a remarkable battle with Zed Em. Given he is a four-time winner over jumps in the UK he has strong credentials, which were confirmed by the fact he was able to adapt to Oakbank. Warrnambool is a tougher test but Ciaron Maher's horses are always exceptionally well prepared for this race and the fact Steven Pateman elected to ride him is telling. Entitled to be favourite, but no certainty.
6. Napoleon T: Ms R Frost, J: Will Gordon
Kiwi jumper who has had plenty of experience over jumps at home, including a second placing in last year's Great Northern Steeplechase at Ellerslie. That race has a number of similarities with the Annual (they go up and down a hill twice and jump plenty of fences), and the fact he was sharp enough to beat admittedly a limited field last time at Pakenham suggests he has adapted to Australian conditions well. Terrific value and the best bet in the race.
7. Elvison T: Symon Wilde, J: Ronan Short
Late scratching from the Brierly due to lameness and that is a less than positive sign coming into this. Even at absolute peak form he wouldn't rate a winning chance.
8. Georgethefifth T: Symon Wilde, J: Ronan Short
Didn't jump well in the Brierly on Tuesday and I would be surprised if he went around. No appeal if so.
10. Heistheone T: J R Wheeler, J: Sam O'Malley
Dislodged the rider at the second of the Tozer Road double in the Brierly on Tuesday. He was still travelling okay there but I would be shocked if he did anything here.
11. My King's Counsel T: Ms K Durden, J: Darryl Horner (Jnr)
Comes from a top jumping stable but he is a big query in this grade and at the trip.
12. Pentelligentsia T: Grant Young, J: Nathan Newton
Finished third of five in the Great Eastern but a long way off the winner. He can go around without me.
Grand Annual Steeplechase Tips
We should see a changing of the guard in this year's Annual. Yensir is the top pick and Napoleon is terrific value.

Grand Annual Steeplechase Top 4
1. Yensir
2. Napoleon
3. Zed Em
4. Gold Medals
Verdict
We should see a changing of the guard in this year's Annual. Yensir is the top pick and Napoleon is terrific value.
Best Bet:
Yensir
To Win
@260
at
Sportsbet
- 3 Units
Each-Way Bet:
Napoleon
Each Way
@1000
at
Sportsbet
- 1 Unit