The BCD Sprint was run as the Waikato Sprint for years and it's one of the premier sprint races on the New Zealand calendar.
Run for $200,000, the BCD Sprint has been won by many of NZ's best horses, but none more popular than champion mare Sunline, which scored consecutive wins in 2001 and 2002 and they were seen as exhibition gallops to most punters.
It remains one of the most popular betting races throughout the year.
BCD Group Spring New Zealand odds
All-in odds for the BCD Sprint are released around a month in advance but the final field is confirmed a few days before the race.
We will have all the latest odds for the BCD Sprint when markets are released by bookmakers.
BCD Group Spring New Zealand bookie offers
Bookmakers will have bookie offers for the BCD Sprint closer to the race time. Typically, bookmakers will offer bonus bets for running second or third in the major races.
BCD Group Spring New Zealand field
A race targeted by New Zealand's best sprinters, the BCD Sprint might not have the biggest stakes among the sprint races in New Zealand but it holds plenty of prestige.
That makes for a terrific field every February on a track which generally plays in the good to dead range.
We will have the confirmed field when it's released by the NZTR.
BCD Group Spring New Zealand form guide
Much like the Herbie Dyke Stakes run on the same day, the BCD Sprint is often won by a champion sprinter.
The last winners' list is an extensive history of New Zealand's best sprinters and there have been plenty of middle-distance types win as well. Sunline was best over 1600-2040m and the likes of Xtravagant, Melody Belle and Darci Brahma were all capable middle-distance horses.
The 1400m distance makes it more open than holding it at 1200m so punters need to look at form of not just sprinters, but also those looking to stretch out to longer distances later in the year.
BCD Group Spring New Zealand Previous Results & Winners
| Year | Winner |
| --- | --- |
| 2019 | Melody Belle |
| 2018 | Start Wondering |
| 2017 | Start Wondering |
| 2016 | Xtravagant |
| 2015 | Sacred Star |
| 2014 | Viadana |
| 2013 | Final Touch |
| 2012 | Veyron |
| 2011 | Mufhasa |
| 2010 | Tavistock |
| 2009 | Mufhasa |
| 2008 | Seachange |
| 2007 | Darci Brahma |
| 2006 | Kristov |
| 2005 | Sedecrem |
| 2004 | Sedecrem |
| 2003 | Tit For Taat |
| 2002 | Sunline |
| 2001 | Sunline |
| 2000 | Tall Poppy |
BCD Group Spring New Zealand bet of the day
We will have our BCD Sprint bet of the day when the market is released.
BCD Group Spring New Zealand race schedule
The BCD Sprint is one of two Group 1 races on the February card at Te Rapa. Along with the Herbie Dyke Stakes, the BCD Sprint features on the nine-race card.
In total there are four group races, which also includes the Sir Tristram Fillies' Classic and the Waikato Guineas.
Race 1: 2YO SW&P
Race 2: Benchmark R82
Race 3: Benchmark R65
Race 4: Sir Tristram Fillies' Classic
Race 5: Waikato Guineas
Race 6: Benchmark R82
Race 7: Herbie Dyke Stakes
Race 8: BCD Group Sprint
Race 9: Benchmark R72
BCD Group Spring New Zealand history & key facts
Rich in history, the BCD Sprint has a past winners' list that would rival any Group 1 race in Australia. Names like Sunline, Veandercross, Mr Tiz, Darci Brahma, Seachange, Mufhasa, Tavistock and Melody Belle all feature.
Trainer Trevor McKee has won the BCD Sprint four times. His first win came with Sunline in 2001 before scoring another win in 2002 with the champion mare.
Another dual winner would come along for the McKee team in Mufhasa. The striking runner scored in 2009 and 2011.
Start Wondering emulated Sunline by going back-to-back in 2017-2018 after returning from the Chris Waller stables in Sydney.
It has become a great race for future stallions with the likes of Darci Brahma and Tavistock winning in recent history.
BCD Group Spring New Zealand live streaming & race replay
Punters can watch the BCD Sprint at Beteasy, which has two channels to live stream every race in Australia and the feature races in New Zealand.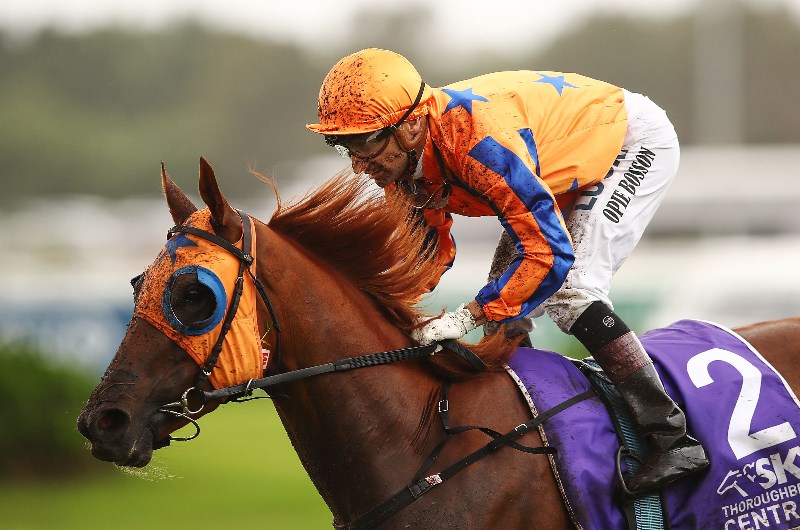 The race replay of the 2019 BCD Sprint shows Melody Belle winning of her four Group 1's she captured that season. It was a fantastic display of galloping over the unsuitable distance.

Best BCD Group Spring New Zealand Betting tips, odds & free bets