BetEasy
Read our honest BetEasy review and get the latest BetEasy bonus codes, welcome bonus & signup offers for the best horse racing betting experience.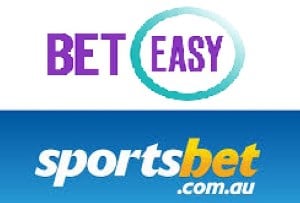 BetEasy now Sportsbet
Join Australia's #1 betting operator Sportsbet
* 18+ T&Cs apply. Gamble Responsibly. Apply your allocated bet returns and get your bet back in Bonus Bets. Maximum limits apply. T&Cs apply. Login to see allocated bet returns available for racing markets. Excludes SA, WA & NSW.
Join
Join
BetEasy Review
We review BetEasy - the biggest bookmaker in Australia to see what makes it such a popular option for sport and horse racing punters.

BetEasy Verdict
BetEasy's biggest attribute is offering good odds for both horse racing and sporting markets. Punters are always
on the lookout for the best odds and BetEasy rarely disappoints.
It's the preferred bookmaker of thousands in Australia and we're hardly surprised. A lot of money has been pumped into this bookmaker and BetEasy is coming up trumps.
Pros
BetEasy Rewards program – use bonus points for bonus bets or as gift cards
Free live racing for Victorian racing
Auto Boost – get Rewards Points on your first win, every day
Official wagering partner of the AFL – stream games for free
Daily bonus bets and cash back offers
Bet Boost – boost your odds on one bet per day
Cons
International verification process takes time
Reasons to Bet at BetEasy
There are many reasons to bet at BetEasy, but they're the biggest bookmaker in Australia and that's the overwhelming factor.
BetEasy is as professional as they come. They're also one of the first bookmakers to release weekly horse racing odds, which other bookmakers then take note of.
That's what makes BetEasy to industry leader in Australia. Punters know they're getting quality odds, markets and service.
BetEasy Bonus Bets & Promo Codes
BetEasy has many bonus bet promotions. Not only do punters get bonus bets when signing up, but bonus bets are offered throughout the site.
Horse Racing Bets at BetEasy
The racing section at BetEasy is set up simply for punters to easily navigate through the many markets on offer.
Local thoroughbred racing from Australia and New Zealand racing is at the forefront of the racing section and fixed odds markets are available for Wednesday, Thursday, Friday and Saturday racing days in advance, which is a great asset for punters.
Punters can find daily racing markets for international racing further down the page. This includes markets from America, Japan, Korea, France, South Africa, Singapore, Hong Kong and the UK.
Harness and greyhound racing markets are available and punters can get to those markets quicker by clicking on the features pictures at the top of the page.
Futures markets are a big draw card for online bookmakers and BetEasy has a good range of racing futures on offer.
The Racing Futures section could be separated into location so selected races are easier to find, but BetEasy has most of the major races from around the world covered.
Punters can also ring and request a horse which isn't in the market. That horse will appear in the market about 1-2 hours following the request.
The Racing Specials section includes premiership markets and any other exotic betting options. This is more popular during the autumn and spring carnivals when punters have plenty of options to choose from.
The Call is a blog section for racing, which includes podcasts and articles with all the latest market information and tips.
This gives punters more information about the upcoming race card and more information is always welcomed.
Sports Betting at BetEasy
BetEasy has been known to refund punters' bets based on good will.
Refunds are also common for AFL and NRL games and they give punters a second chance at getting their money back should their original bet lose.
The 1.92 points spread lines are some of the best around and BetEasy is extremely popular because of this. They spare no expense with their sports betting markets.
All the biggest sporting events are shown along the left-hand side, which makes it quick and easy for punters to find their desired market.
BetEasy Bet Types
All the best bet types are offered at BetEasy. Sports punters can bet on the popular head-to-head, points start, total points and first try scorer options for the main Australian sports.
If betting on American sport is your thing, you can bet on all the best options. NFL punters can bet on first touchdown scorer, NFL MVP and a massive variety of game-to-game betting options.
Most of these betting options have the "Cash Out" option, which means punters can take a lower return for less risk.
It's a widely-popular promotion and it means you don't have to sweat out the last 10 minutes of a game.
BetEasy offers all the bet types with some sports having over 220 betting options.
BetEasy Mobile Betting App
BetEasy's app allows punters an easy way to place a bet on their phones. It's a quicker way to bet as opposed to using the mobile site and it's hassle free.
Punters can find BetEasy mobile betting app on their website, which is available for both Android and iPhone users.
BetEasy have put plenty of time and money into their app and it shows.
BetEasy Payment Details
BetEasy has all the usual payment options on offer for punters. The following deposit methods are accepted at BetEasy.
VISA
MasterCard
BetEasy Card
PayPal
POLi
Bank transfer
Cash-In
Flexepin
BPAY
BetEasy Customer Service
Customer service is a big positive aspect for BetEasy. It has a live chat option, which is key for any online bookmaker in this day and age.
Punters can also send an email, call their hotline number or send a letter in the post. BetEasy is quick to reply so any queries a punter might have are met with haste.
Given their large customer list, BetEasy employs a big team to handle all questions.
Top 5 Bookmakers March 2021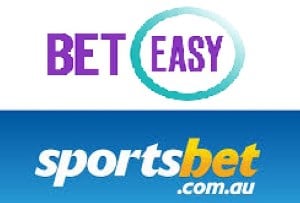 BetEasy now Sportsbet
Join Australia's #1 betting operator Sportsbet
* 18+ T&Cs apply. Gamble Responsibly. Apply your allocated bet returns and get your bet back in Bonus Bets. Maximum limits apply. T&Cs apply. Login to see allocated bet returns available for racing markets. Excludes SA, WA & NSW.
Join