BoomBet.com.au Promo Code - Get top racing offers at Boombet
BoomBet.com.au have been launched offering top racing offers
BoomBet is a new name for Sportsbetting.com.au
Get regular racing betting promotions and specials as a BoomBet member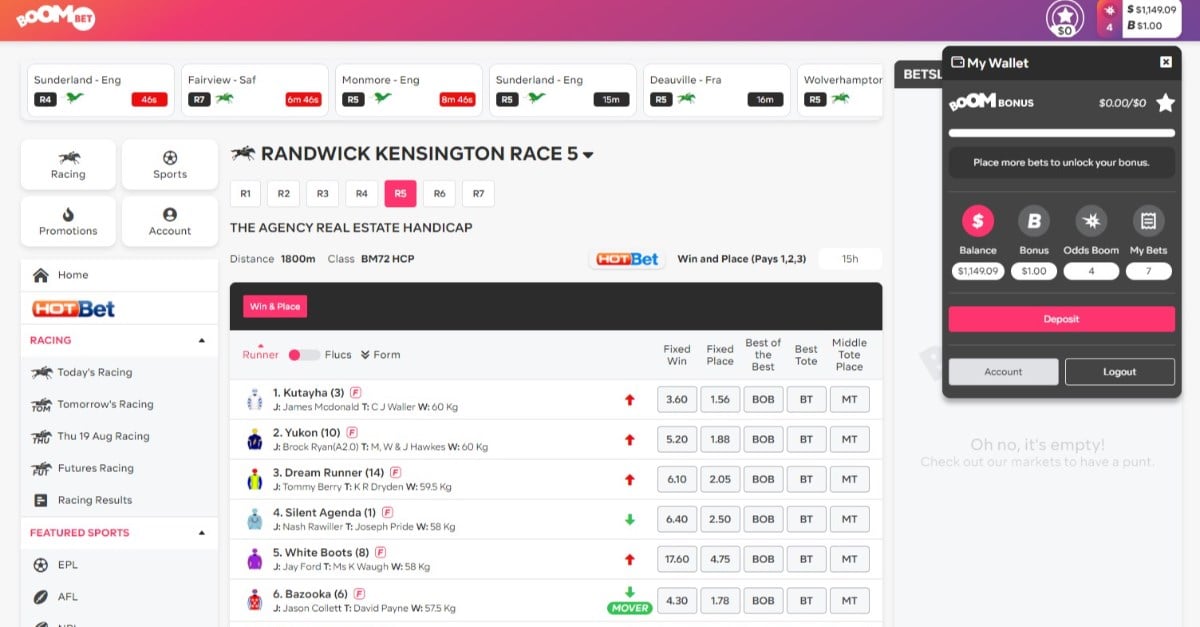 BoomBet.com.au
is the newest Australian bookmaker and has exclusive racing offers, specials and promotions available.
Sportsbetting.com.au, one of the longest-running online sportsbooks in Australia, has a new name and BoomBet is set to deliver on the already impressive offers.

Learn all about BoomBet.com.au, how you can join today and what you can expect from this horse racing specialist bookmaker.
BoomBet Sign-up
There is no code required when you sign up at BoomBet. Just follow the links on this page and you will be take directly to the new site. Once signed up, you can access the exclusive BoomBet promotions and offers. The step-by-step guide below helps you get started at BoomBet.com.au:
1-2-3 Guide
Go to BoomBet.com.au. This link takes you to the right page on the official website.
Complete the registration form. Click the 'join' tab. This will bring up the three-step registration form, and all you have to do is input your information.
Access offers and promotions. Once your account is created, access the exclusive offers available to members.
Betting at BoomBet.com.au
The SportsBetting.com.au website was very well laid out and the replacement BoomBet site is equally easy to use.
If you've never placed a bet before you'll have no trouble finding the wager you're looking for.
All the sporting categories are in the sidebar down the left of the screen, and you can click through the different race meetings or leagues until the individual races or matches are displayed in the centre of the screen.
From here all you have to do is click on the odds to add a wager to your bet slip, and if applicable you can click the 'show additional markets' link to view all the available bets.
BoomBet.com.au Promotions
BoomBet carry on the SportsBetting tradition by offering excellent promotions for existing customers. Keep an eye out for these as they can be a great way to get more bang for your buck.
Racing special promotions will get you a better price on the big horse racing runners and races each week. Lots of 'best price' products such as TopFluc and Best Of The Best are also available.
Payment Methods
BoomBet.com.au do not have the largest selection of payment options, but there are enough here to cater for most punters. There are no e-wallet options however, which would be a worthwhile addition. Payment methods include:
POLi
Mastercard
Visa
Bank transfer
BPay
Customer Service
The customer service centre is open seven days a week from 8am - 10.30pm. The contact options are:
Live chat: Yes. Click the icon at the bottom right of the screen.
Email: support@boombet.com.au
Telephone: +61 (0)8 8967 1609
Local Call: 1300 BOOKIE (266543)
Mail: PO Box 231, Sandringham, VIC 3191
BoomBet.com.au Code FAQs
Is there a BoomBet promo code?
No BoomBet bonus code is needed when you open an account. Just follow the link on this page to access the latest promotions.
Is BoomBet.com.au a trusted bookmaker?
Yes. It is the new name for SportsBetting.com.au, which has over 20 years of experience and is one of the most trusted Australian bookmakers.
Who owns BoomBet.com.au?
BoomBet is an Australian owned, Northern Territory licenced bookmaker and is the new name of Sportsbetting.com.au, one of Australia's oldest online bookmakers having been operating since 1998.